Whether for family entertainment, health reasons, increased property value or in order to get more holiday-goers interested in staying at your property, or just a place to cool down in the hot Thai weather. There are many reasons why you would want or need a swimming pool installed, be it in the yard outside your house or villa, inside the house, or even on the roof.

There are a multitude of advantages in choosing a Desjoyaux pool over a conventional pool that is built using concrete and tiles, and requires a system of pipes and a pool house.
Our filtration system does not require a pool house or any pipes to pump the water around. That means it is much easier and quicker to install, it uses less water, requires less maintenance and there are guaranteed no leaks!
It is fitted to your pool either with a straddling unit, a unit integrated into your pool structure or a filtration unit fitted into the stairs, which also works as a jet-set whirlpool.

The shape and size of your pool are determined by assembling a series of panels that form the structure's "active permanent casing". This exclusive process ensures that the pool is strong and long-lasting, while offering great creative freedom in terms of its design.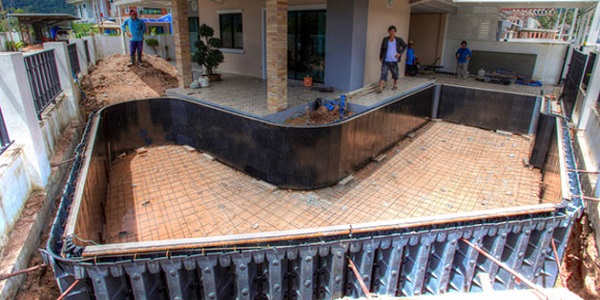 The installation technique maximizes the pool's service life by casting a reinforced concrete bed-slab and by installing the reinforcement and casting the side-walls in a single operation. Your Desjoyaux pool is a rot-proof, single-piece self-supporting structure.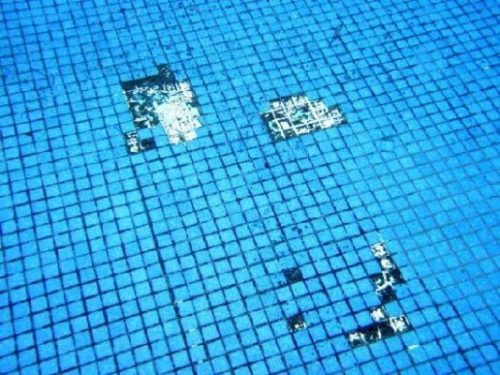 Tiles and grouting deteriorate due to UV and chlorine in the water. After just a few years you could experience dangerously sharp cracked tiles, missing tiles and leaks. Repair and maintenance will be costly and time consuming. The use of a liner prevents all the problems associated with tiles.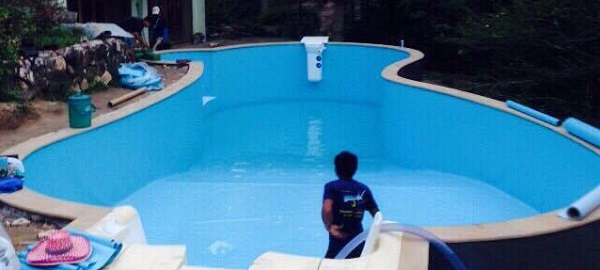 Desjoyaux's legendary craftsmanship creates an extraordinary PVC liner that ensures your in-pool comfort. Our expert installers affix the liner to the pool structure using welded liner locks. This ensures a watertight construction, which is UV resistant. The liner comes in several colors and is covered with a 10 year warranty.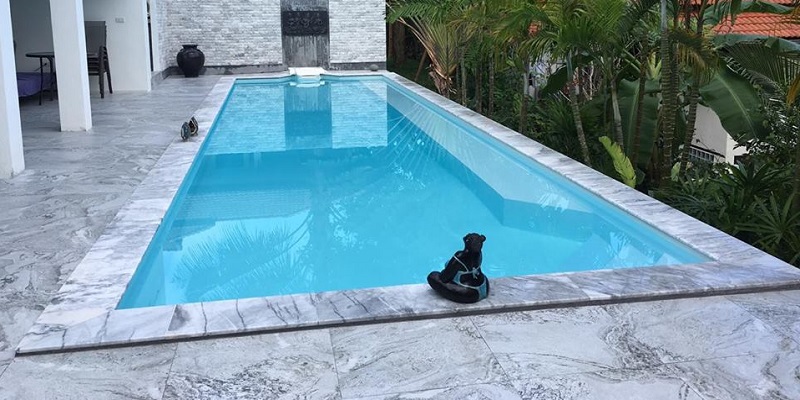 Desjoyaux offers a collection of coping and paving stones with coordinated shades and materials. So whatever your personal style may be, you can be sure to create a setting that perfectly reflects your individuality.
At Desjoyaux we take care of all stages, from the initial site survey at your location and the individual design of your swimming pool, up to the manufacturing, installation and the complete aftercare. With 20 years of local experience, we can take on all project sizes, from small individual pools to the largest developments.
So, when you are ready to build a new pool, renovating or changing an existing pool that still uses tiles and a pool house, think of Desjoyaux and be guaranteed worry-free swimming pool pleasure!
Visit our Contact Page to schedule an appointment to learn more about our swimming pools, to plan a site survey at your location, or ask to visit one of the many pools we built on the Thai islands of Koh Samui, Koh Phangan and Koh Tao, and see and hear for yourself why a Desjoyaux pool is the best swimming pool.
On the Portfolio & Reference Page you can see some of the private swimming pools we built on Koh Samui, Koh Phangan and Koh Tao. You can also read what our customers have to say about their Desjoyaux Pool and our service.